Audio Recordings & Syllabus in Russian 1121/1122
or
What To Do After Your First Class
Recording Russian words and sentences is part of your homework for Russian 1121 (and 1122 in the spring). Use the program called Web Audio Lab to make the recordings and upload them to our server. This is required homework, shown in the syllabus. The teacher will review your recordings by playing them from the server.
Web Audio Lab by Slava Paperno is an online application that can be used with several (but not all) modern browsers on Windows and Mac OS X computers. Most likely, you will be able to use it from your own room. However, we strongly recommend that you use the computers in the language lab for the first couple of days. This will help you avoid possible technical glitches and concentrate on your work rather than spend time installing required software.
The lab is located in the Language Resource Center on the top level of Noyes Lodge on Beebe Lake.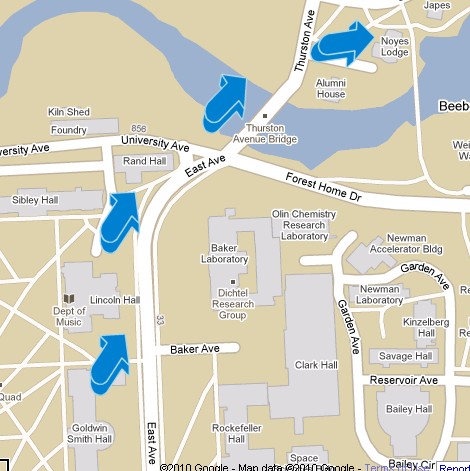 On the afternoon or evening after your first Russian 1121 class, go to the Language Resource Center in Noyes Lodge and use one of the Mac OS X computers on the top level. If you run into any technical problems, talk to the student attendants in the lab or to the technicians on the lower level.
On your own computer you may use Internet Explorer and Google Chrome in Windows, and Safari and Chrome in Mac OSX. The lab has only Macs. WAL cannot be used on tablets.
if a password is required, get it from the desk (it may also be posted in the carrel)
start Safari or Google Chrome (Firefox is not supported)
go to your Russian 1121 Syllabus (http://russian.cornell.edu under Current Classes)
click the link for "Lesson 1 in Web Audio Lab" (assigned for the second day of classes)
in the box titled Allow Adobe Flash to Record Sound, select Allow and Remember
in the same Flash box, click the little mic icon and speak; the green bar should go up and down to show the recording level; if not, check the mute button on the headset cable, or use a different computer
if you have received an email with your password, log in; otherwise, click register and follow the prompts, then log in
if you see You need to sign up for a class, select your section of RUSSA1121 and click Sign up
if you see Where do you want to go?, click Beginning Russian
After clicking Beginning Russian in the login window, you should see the screen where you will do all your WAL work: listen to short statements and record your own voice--either repeating what you heard or responding to it. Click Start to begin. When the exercise pauses for one reason or another, click Go On. Speak when you see a red line running across the screen. There is no Record button: recording starts and stop automatically.
You will see the dots in the bottom row turn red, then green as your voice is recorded and the recordings are submitted to the server. When you're done with Exercise 1, and the last dot has turned green, select the next exercise from the navigation bar and click Go.
You can quickly review any of your recordings by clicking its dot-button. If your voice seems too quiet, you may need to move the microphone closer to your mouth or try to adjust the microphone recording level (click Mic settings in the navigation bar).
When you are done, you may, if you wish, click Your history and verify that your recordings are on the server. That's how your teacher will review your homework.
If you get stuck, see this video tutorial on using WAL and read the brief FAQ for it.
Find out what students in Russian 1121/1122 say about using Web Audio Lab.
To see your other assignment for Day 2, consult the Russian 1121 course description and syllabus on our Web site, russian.cornell.edu. We will not be distributing printed copies of the syllabus or hand out your homework assignments in class: always consult our Web site.
---
Our home page is at russian.cornell.edu.